Railfan Excursion Event …
Well, everyone enjoys a day in the mountains riding on the Oakhurst Railroad!  So, Southern Pacific teamed with the Oakhurst Railroad to organize a railfan event.
The special Southern Pacific passenger train left Oakland on Friday afternoon and carried the San Francisco Bay area railfans to Fresno, where they spent the night in a local hotel.  Early Saturday morning, they headed up the branchline to Oakhurst.  An Oakhurst Railroad Shay locomotive helped pull them up the last 10 miles to the Oakhurst yard.  Waiting for them were three special railfan excursion trains pulled by two Shay's and a Heisler.  Earlier in the morning, a special train had left the yard with supplies for the barbecue that was being set up at Fish Camp and Wawona.
The three excursion trains visited Wawona, Central Camp, and Fish Camp and had a great time filling themselves with tri-tip beef, pinquito beans, salad, and garlic bread.  Alcohol consumed was minimal, mostly from hip flasks, as Prohibition is in effect. 
The three trains returned to Oakhurst in the early evening, where the hardy passengers reboarded their special Southern Pacific passenger train, which deposited the railfans back in their hotel in Fresno late in the evening.  Most returned to Oakland the next day.
Watch your newspaper for future railfan events on the Oakhurst Railroad!
<![if !vml]>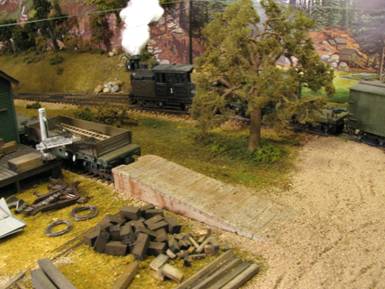 <![endif]>
Early in the morning, the catering train heads up into the mountains.
<![if !vml]>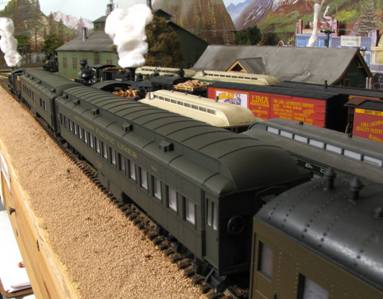 <![endif]>
The special Southern Pacific passenger train arrives.
<![if !vml]>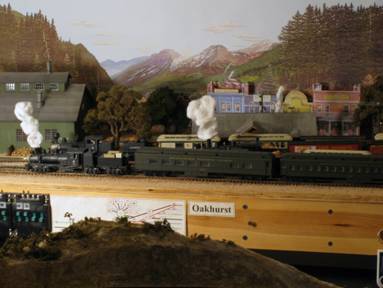 <![endif]>
Oakhurst Railroad Shay #6 pulled the train up the steep grade to Oakhurst.
<![if !vml]>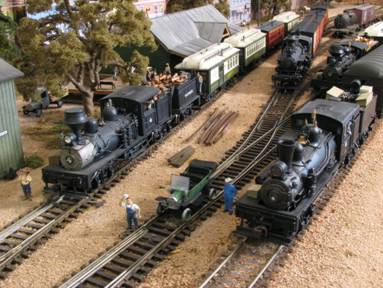 <![endif]>
Passengers transfer to three special Oakhurst Railroad excursion trains.
<![if !vml]>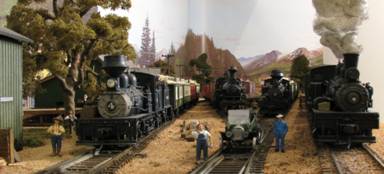 <![endif]>
A Ford Model-T leads the special trains up into the mountains for a special tour and BBQ.